Dit jaar viert Runescape hun 20-jarige jubileum. En om deze prachtige mijlpaal te vieren brengt, de maker van dit MMORPG-spel, Jagex speciale content uit. Zoals door Old School Runescape uit te brengen op Steam en dat gebeurt vanaf 24 februari 2021.

Hieperdepiep…hoera! Wie natuurlijk jarig is trakteert. Runescape bestaat 20 jaar en dat moet gevierd worden. Naast nieuwe quests en toffe merchandise komt Old School Runescape naar Steam op 24 februari. De lancering van de geliefde MMORPG-game op Steam is een onderdeel van Jagex' missie om het Runescape-universum naar meer spelers over de hele wereld te brengen. Momenteel is de online game al beschikbaar voor zowel PC- als mobiele gebruikers. En geloof me: met Steam erbij wordt hun bereik zeker groter.
Rob Hendry, Executive Producer van Old School Runescape:
"Wat begon als een server voor RuneScape is uitgegroeid tot een acht jaar lang succesverhaal. We zijn heel erg enthousiast dat we het volgende maand uitbreiden naar het Steam-platform. 2021 heeft een bomvol releaseschema en alle content wordt toegankelijk met cross-platform-play. Het wordt dus een enorm groot jaar voor Old School RuneScape. We zijn ervan overtuigd dat zowel onze community als nieuwe spelers hun tijd in de game heel erg leuk gaan vinden."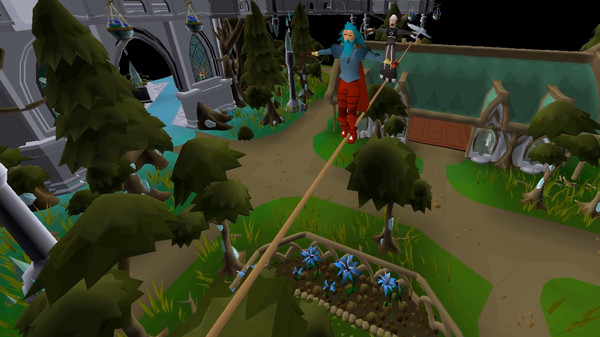 Bron afbeelding: Store.Steam/OldSchoolRunescape
Het debuut van Old School Runescape op Steam biedt een op maat gemaakte Steam-ervaring met een speciale Old School Steam Community Hub. Hierin komen wekelijkse aankondigingen, guides, artikelen, artwork, video's, membership-pakketten en kunnen achievements worden gedeeld. Wil je op de hoogte blijven? Spelers kunnen nu de game toevoegen aan hun verlanglijstje via de 'Coming Soon'-pagina op Steam. Men krijgt bericht zodra de game is gelanceerd op dit platform.
Leuk feitje om te weten is dat Old School Runescape onlangs een recordpiek van gelijktijdige spelers ingelogd tijdens het Leagues II: Trailblazer-evenement haalden. Meer dan 157.000 spelers! Tevens is Old School Runescape regelmatig kanshebber voor de top 10 meest bekeken titels op de streamingdienst Twitch. En de game won bijzondere prijzen, zoals de BAFTA voor 'EE Mobiele Game of the Year' en de Develop Star Award voor 'Best Mobile Game'. Geheid zal de game meer prijzen winnen, zodra Runescape hun debuut maakt op Steam.
Old School Runescape is vanaf 24 februari 2021 beschikbaar op Steam.