Terwijl ik dit (virtueel) schrijf is het voor mij nog 'vakantie' en lijkt het alsof de Sims uitbreidingen me om de oren vliegen. Vlak voor de zomervakantie (in Midden Nederland) zijn de Eiland Avonturen aangekondigd, onlangs verscheen een accessoires pakket Moschino en inmiddels is er ook nog een uitbreiding aangekondigd die ook al bijna in de winkels moet liggen; De Sims 4: Magisch Rijk voor de ware toverSims onder ons!

Vanwege mijn vakantie ben ik nog niet in de gelegenheid geweest om mijn reviews van de onlangs verschenen pakketten te schrijven, dit volgt heel snel! Maar toch wil ik een blik werpen op het nieuwe pakket dat is aangekondigd.
Zoals de naam wellicht al doet vermoeden, Magisch Rijk, heeft het met magie te maken. Er zal een nieuwe buurt komen met de naam Glimmerbrook waar jouw Sims natuurlijk gaan leren toveren en drankjes maken. Tover je eigen eten of verander een ander in een voorwerp! Of kies je voor een liefdesdrankje? Of een drankje voor het eeuwige leven? Maar dit kan je alleen doen als je de geheime portal hebt gevonden!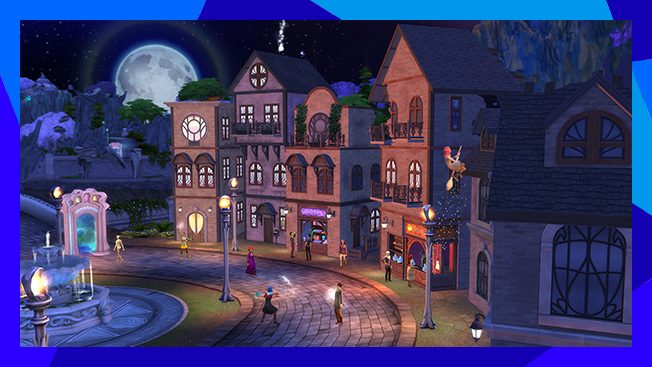 Ook maak je kennis met een etherisch wezen, ook wel een beschermer genoemd. Deze kan een draak, fee of totemdier zijn, in elk geval eentje die het beste bij de persoonlijkheid van je Sim zal passen. Ook aan de verzamelaar is gedacht, wat denk je van het verzamelen van toverstokjes en bezemstelen?
Met een nieuwe uitbreiding krijg je ook de nodige nieuwe (bouw) voorwerpen tot je beschikking en een hoop nieuwe outfits. Deze laatste kan je zelf toveren en die kunnen je helpen bij het maken van een drankje of het uitspreken van een nieuwe spreuk.
Hoewel ik niet zo dol ben op toveren, vind ik de nieuwe buurt er wel gaaf uit zien en ben ik toch wel erg benieuwd naar de nieuwe features die er zijn. Maar nu eerst terug naar de zeemeerminnen en fashion uitbreiding van Moschino.
Vanaf 10 september zal deze uitbreiding te spelen zijn op de PC en Mac. Vanaf 15 oktober zal hij ook naar de PlayStation 4 en Xbox One gaan komen.